Family Flyer - November eNews
Early bird registration rate ends Dec. 3rd
Don't miss out!


H.I.M. Marriage Retreat

Friday night through Sunday
March 3-5, 2017
Hyatt Regency Hotel, Newport, RI
Featuring guest speakers Chris and Alicia Grace
Through a unique blend of humor, Biblical truth, relevant research, and practical applications, Chris and Alicia will speak on how God has designed you to be in relationship, why it's so easy to mess it up, and what steps will take your marriage from striving to thriving.
December 3-4, 2016

;
April 1-2, 2017

There's still time to register for the Dec. 3-4 Engagement Matters weekend! Please encourage any engaged or pre-engaged couple you know to consider attending. Past attendees have consistently sung its praises, saying the weekend was not only extremely helpful but a lot of fun as well.

Paul and Virginia Friesen -- along with a dynamic team of resource couples -- offer engaged and pre-engaged couples a special weekend full of laughter, teaching, and a plethora of unparalleled resources for preparing for marriage, including talks on temperament differences, communication, and all that God designed marriage to be. It's a weekend that makes a difference for life.

Engagement Matters Details and Registration Info
Worth It - Save the Date!
Just a heads up to save the date of
Saturday, April 8, 2017
, to once again bring your teens to the annual sexual purity conference, Worth It --You are Worth It, God is Worth It, and Purity is Worth It!!
Paul and Virginia will once again gather a dynamic team of speakers to encourage, challenge, and point your youth towards achieving God's design for a fulfilling life that glorifies Him. God knows what He's asking, and it's part of the abundant life he wants each of us to have.
Paul and Virginia speak at Mission Hills Church in Littleton, CO

This past August, Paul and Virginia were invited to fill the pulpit for three weeks at
Mission Hills Church
in Littleton, Colorado. They spoke as part of a series on Family and Relationships, "Are We There Yet?" Their sermons were recorded and are available to be viewed here or on the Mission Hills
sermons webpage
. Click on the links below to view their messages.
Setting Out on the Journey | Mark 2; 1-12 | Paul & Virginia Friesen | August 7th, 2016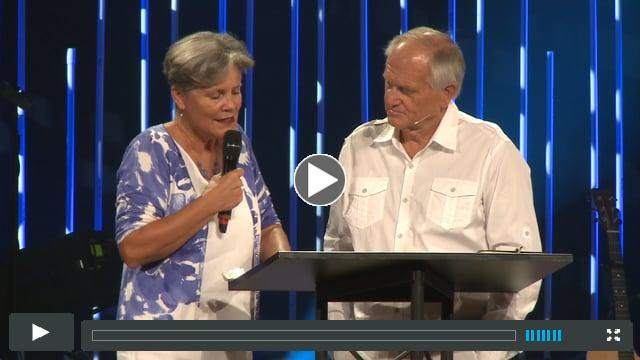 Who's Driving & Who's Giving Directions? | Ephesians 5;22-33 | Paul and Virginia Friesen | August 14th, 2016
Don't Give Up Along The Way | Paul & Virginia Friesen | August 21st, 2016

From the Friesen Kitchen

GINGER SCONES
Ingredients:
2 cups all-purpose flour

1/3 cup sugar

1 Tbs. baking powder

1/2 tsp. salt

3/4 cup chopped candied ginger

8 Tbs. very cold unsalted butter

1 egg, lightly beaten

1/2 cup heavy cream

Raw sugar for dusting

Preheat oven to 425°.
Mix the flour, sugar, baking powder and salt in a cold, medium-sized bowl. Cut in the butter with a pastry blender until pea-sized pieces are left. Do not over mix. Mix in ginger. Put bowl in freezer.
Whisk together egg and cream. Pour egg mixture into dry ingredients and mix just until incorporated. Turn out onto a cold floured surface and form into a flat disc 3/4 inch thick. Cut out 2 inch rounds and place on cold unlined baking sheet, 1 1/2 inches apart. Brush tops with cream and dust with raw sugar. Bake for 11-13 minutes until just golden brown.
Enjoy!
Keeping Up with Paul and Virginia

Paul and Virginia typically log many miles of air travel each fall, as they are committed to being in New England each week to counsel as well as to meet with the Patriots players and their wives. On the weekends, however, they are usually speaking somewhere (else!) in the country, and thus the weekly flights. Since our last newsletter, they have made multiple trips to California (both north and south) as well as to New Hampshire and Florida. They've also had several opportunities to speak here in Massachusetts this fall. In fact, this weekend they will be leading H.I.M.'s semi-annual
Engagement Matters conference
here in New England, which should allow them a few more nights of sleep in their own beds.


Each fall, Paul and Virginia develop a new teaching series on marriage for the Patriots players. Two of those curriculums have turned into published study guides that you may be familiar with: In Our Image and Jesus on Marriage. I thought you might be interested to hear a little bit about this year's curriculum. It's titled "Exposing the Opponent's Marital Strategy: Top 12 defensive plays that keep couples from crossing the relationship goal line". Each week the Friesens discuss a different "play", such as Stats ("All about me"), Conditioning ("Ignoring the husband's greatest need"), False Starts ("Missing the right order to leave, cleave, and become one"), or Rehashing Films ("Refusing to forgive and move on"). Beyond the cleverness, however, is the power of God's truth. Please continue to pray for their ministry.

Because of your prayers and support, Paul and Virginia have both the space and the energy they need to listen to God's creative voice in presenting truth to a wide variety of audiences. You've likely been in at least one of those audiences, so you can attest to the word of truth delivered into your own life. May God's truth reign in each of our hearts every day.


Blessings,

Barbara Steele
Home Improvement Ministries